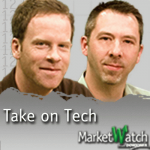 Marketwatch Take On Tech
www.marketwatch.com/podcasts/default....
MarketWatch tech reporters Rex Crum and John Letzing take you inside the business of technology. Each week they discuss the highs and the lows, the right and the wrong and, in general, what they see as the best and worst of the week of technology. Learn what"s happening in high-tech from the guys who know first.