GSLO Finalizes Packaging for Volt Launch
Posted on February 18, 2011 at 09:00 AM EST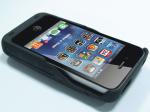 GoSolarUSA (PinkSheets:GSLO) announced today that the company is developing attractive new packaging for the Volt Solar Charger in preparation for the device's North American launch.
A rendering of GoSolarUSA's Volt Solar Charger for the Apple iPhone. (Photo: Business Wire)
GSLO President Tyson Rohde said on Thursday that the Volt would likely be packaged into a diamond box designed to feature its sleek appearance.
"We wanted a clear box window that highlights the Volt Solar Charger's most exciting attributes," Rohde said. "I've spoken to major-chain retail buyers about their expectations for the packaging, and we'll ensure the final product suits their needs. Once the box design and user information are finalized, we expect to manufacture our initial retail run."
The Volt Solar Charger is the only iPhone battery pack known to GSLO that is compatible with all versions of the Apple iPhone. The device attaches to the iPhone and extends its battery life using a 1500 mAh battery and a top-of-the-line, built-in solar panel. GoSolarUSA filed a U.S. patent for the device earlier this week.
GSLO is currently in the midst of a flurry of activity in preparation for the Volt's North American launch. The Volt is expected to go on sale in multiple colors, bundled with a one-year warranty. Last month, GoSolarUSA signed a distribution agreement with Xiamen Solar Electronics (XSE), the Chinese developer of the Volt, providing GSLO with the exclusive right to sell and distribute the Volt in North America, the world's largest market for iPhone accessories.
Those interested in purchasing the Volt can currently make a reservation using GSLO's Volt Waiting List at http://www.gosolarusa.com/technology/volt-reservation.html
GoSolarUSA is dedicated to aggressively acquiring, developing and marketing promising and potentially profitable technology. The Volt Solar Charger is a product of Xiamen Solar Electronics based in Xiamen, China. The iPhone is a product of Apple Inc. (NASDAQ: AAPL), which competes in the global mobile electronics market against Motorola Mobility Holdings, Inc. (NYSE: MMI) and Research in Motion (NASDAQ: RIMM).
For more information, please visit www.GoSolarUSA.com/Investors.
About GoSolarUSA, Inc.
GoSolarUSA primarily identifies and develops new solar energy technologies in the United States. We believe this not only creates high-quality jobs in America, but it ensures the quality and availability of our products. GSLO is endeavoring to advance clean American solar technology to compete in an energy industry that includes stalwarts such as First Solar (NASDAQ: FSLR). GoSolarUSA is a US registered and reporting OTCQB market tier company.
Safe Harbor Statement under the Private Securities Litigation Reform Act of 1995: This news release contains forward-looking information within the meaning of Section 27A of the Securities Act of 1933, as amended, and Section 21E of the Securities Exchange Act of 1934, as amended, including statements that include the words "should," "plans," "believes," "expects," "aims," "anticipates" or similar expressions. Such forward-looking statements involve known and unknown risks, uncertainties and other factors that may cause the actual results, performance or achievements of the company to differ materially from those expressed or implied by such forward-looking statements. In addition, description of anyone's past success, either financial or strategic, is no guarantee of future success. This news release speaks as of the date first set forth above and the company assumes no responsibility to update the information included herein for events occurring after the date hereof.
Photos/Multimedia Gallery Available: http://www.businesswire.com/cgi-bin/mmg.cgi?eid=6617496&lang=en