Johnson: Delphi's White Collar Workers: Collateral Damage for the Auto Bailout?
Posted on March 06, 2012 at 11:47 AM EST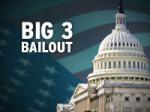 President Obama rightfully assumes credit for the auto industry bailout, a political victory that saved 1.5 million jobs and likely prevented another depression. Unfortunately, over 20,000 non-union salaried Delphi workers were left behind, their pensions sacrificed at the altar of forgiveness.