Schick® Xtreme3® Eco™ Partners with MAKE Magazine to Shave Down Landfills During Earth Month
Posted on April 03, 2012 at 08:00 AM EDT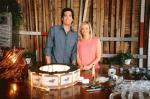 Project ReMAKE contest invites people to creatively reuse and recycle for the chance to win great prizes throughout the Spring
SHELTON, Conn., April 3, 2012 /PRNewswire/ -- From crafters to makers, "do-it-yourself" is a growing movement at the intersection of creativity and sustainability. Today, Schick Xtreme3 invites creators everywhere to join its quest to shave down landfills. Schick Xtreme3 teamed up with MAKE Magazine to launch Project ReMAKE, an online contest that asks the public to share their most creative ways to reuse everyday objects and materials during Earth Month. The contest will celebrate the most inspiring submissions, in support of the new Schick Xtreme3 Eco razor. The eco handle is made of 100 percent recycled plastic derived from everyday items like clothes hangers and the package is made of recycled paper.
To view the multimedia assets associated with this release, please click: http://www.multivu.com/mnr/55538-schick-xtreme3-eco-and-make-magazine-launch-project-remake-earth-month
(Photo: http://photos.prnewswire.com/prnh/20120403/MM81174 )
"Just by using the Eco razor, consumers are helping the environment by reducing landfill waste," said Suma Nagaraj, Brand Manager for Schick Xtreme3 Disposables. "Our hope is that by educating people about this product and the Project ReMAKE contest, we will inspire them to reuse waste in new ways and keep it out of landfills."
Creators everywhere are invited to submit photos along with a 100-word description of a project made of reused materials — from a chandelier made of used hangers, to a tea light candle centerpiece made out of old plastic Easter eggs.  The top five finalists will be chosen by a panel of judges including Mark Frauenfelder, founder of MAKE Magazine and a leader at the forefront of the maker movement. One grand prize winner will be chosen by popular vote and will win a trip to the Maker Faire in New York City, and a sweepstakes winner will receive an eco-friendly Nissan Leaf.
"This partnership is a great fit for the MAKE community," said Mark Frauenfelder, Editor-in-Chief of MAKE magazine. "The concept of reusing materials that would otherwise be discarded and creating a new project is something that our engaged makers are very passionate about."
To help launch the contest, Schick enlisted eco-conscious celebrity-couple Amy Smart and HGTV's Carter Oosterhouse, who created a series of how-to videos on Facebook that guide people through sample projects they can easily make at home. The pair will also serve on the panel of judges with Mark Frauenfelder to select the final grand prize winner.
Join Schick Xtreme3 and MAKE in their efforts to shave down landfills. Project submissions open today, and will be accepted until May 14. People can also get involved by voting for their favorite entry, starting May 28. For more information and to enter the ReMAKE contest, visit, www.facebook.com/schickxtreme3 or www.makezine.com/project-remake.
About Schick-Wilkinson Sword
Schick-Wilkinson Sword, a leading manufacturer of razors around the world, is a division of Energizer Holdings, Inc. (NYSE: ENR), headquartered in St. Louis, Missouri. For more information on shaving and Schick® Xtreme3® razors, visit www.shaving.com.
About MAKE Magazine
MAKE is the first magazine devoted entirely to Do-It-Yourself (DIY) technology projects. MAKE unites, inspires, informs, and entertains a growing community of resourceful people who undertake amazing projects in their backyards, basements, and garages. MAKE celebrates your right to tweak, hack, and bend technology to your will. MAKE is published quarterly by O'Reilly Media, Inc. which also produces the wildly popular MAKE website (www.makezine.com), the Maker Shed online store (www.makershed.com), and the Greatest Show and (Tell) on Earth, Maker Faire (www.makerfaire.com). "The Maker movement has brought the pre-1970s world of basement workshops and amateur tinkering into the digital age." -- The New York Times
Lauren Steinhorn
(212) 704-4455
lauren.steinhorn@edelman.com
Alexa Breslin
(212) 704-4595
alexa.breslin@edelman.com
SOURCE Schick-Wilkinson Sword