Are Diamonds the New Gold For Individual Investors?
Posted on April 16, 2012 at 17:03 PM EDT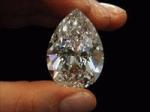 "Diamonds are a girl's best friend." From Carol Channing to Marilyn Monroe to "Moulin Rouge" the iconic song has endured as a symbol of wealth for more than half a century. But should diamonds be an investor's new BFF?