New Book Introduces Banking Industry's Next Generation of Business Clients
Posted on May 04, 2012 at 03:00 AM EDT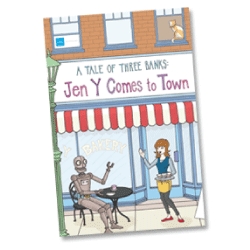 Minnetonka, MN, May 04, 2012 --(PR.com)-- CFC Technology announced the release this week of the second installment in its "Tale of Three Banks" series. The new book, entitled "Jen Y Comes to Town," introduces the fresh crop of business clients known as Generation Y (encompassing those born between 1979 and 1999) and examines how traditional financial institutions can adapt to meet changing industry needs.

"Our goal with this book was to educate the banking community about the rapidly changing demographics of small business clientele-and the new set of expectations accompanying this shift," said Mark Walinske, CEO and President of CFC Technology.

"Jen Y Comes to Town" is presented in the same colorful, hand-drawn style as its predecessor. Though lighthearted in presentation, the book puts forth a serious message: the next generation of business clients has arrived, and they know what they want. Technology is essential to the success of FIs working alongside Generation Y business clients.

The book features two main characters: a robot named Tek (who represents technology) and his friend "Jen Y," a young entrepreneur. Readers accompany Tek and Jen as they set out on a quest to find the perfect fit for Jen's banking needs. After visiting the banks of Regressive Reginald, Complacent Carl, and Progressive Pete, readers are left with a clear sense of what Jen Y brings to the table as a business client-and what she expects in turn from her FI.

Generation Y business owners are one of the fastest-growing market segments for FIs today. Indeed, with the advent of mobile technologies, this generation is not necessarily tied to the bank up the street. Free from this past restraint, and aware of the value of their businesses, this next generation of entrepreneurs is looking to do business with institutions that are both technologically nimble and socially adept.

"These are digital natives—the first generation to grow up with computers," Walinske said. "But they're also a social generation. How well you provide their favored technology and how you use it to communicate with them will determine your success in recruiting and retaining them as customers."

In response, progressive FIs are harnessing technology and increasing transparency in order to appeal to the Gen Y demographic. Time-saving online and virtual services such as remote deposit capture and mobile deposit are proving to be a natural fit for Generation Y's tech-savvy ways and their desire for real-time updates.

"Jen Y Comes to Town" can be viewed for free via CFC Technology's website and is available for purchase on Amazon.com.
Contact Information:
CFC Technology
Kimberlee Karr
763-235-5300
Contact via Email
cfctechnology.com
Click here to read the full story: New Book Introduces Banking Industry's Next Generation of Business Clients

Press Release Distributed by PR.com