Astronaut Dr. Bernard A. Harris Jr. Tells Southern California Youth 'Sky is the Limit' with Math and Science
Posted on May 10, 2012 at 16:25 PM EDT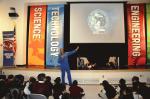 More than 500 middle school students rallied behind science, technology, engineering and mathematics (STEM) education this week in Southern California during The Dream Tour, a high-energy motivational program presented by Dr. Bernard A. Harris Jr., the first African American to walk in space.
Dr. Bernard Harris Jr. explains the science behind space travel to Synergy Kinetic Academy students during The Dream Tour. (Photo: Business Wire)
The Dream Tour, supported by ExxonMobil Foundation, is designed to encourage interest in STEM careers with its message of empowerment and achievement through math and science education. The program engaged students at Magruder Middle School in Torrance on May 8 and Synergy Kinetic Academy in Los Angeles on May 9.
Highlights included a simulated shuttle launch as well as an inspirational presentation from ExxonMobil engineers who spoke about the rewarding aspects of their careers. The program culminated with a dynamic address from Harris about how he overcame barriers through education to achieve his dreams and become a successful physician, businessman, NASA researcher and astronaut.
"Forty years ago, who would have thought our handheld devices would have the same computing power as the technology used to send humans to the moon?" said Harris, founder and president, The Harris Foundation. "With The Dream Tour, I want to inspire students to use their talents and creativity to become innovators who push the boundaries of what people think is possible."
The need to encourage students to consider STEM careers is more critical than ever. In 2011, the U.S. Department of Commerce estimated STEM job creation will outpace non-STEM jobs over the next decade, growing 17 percent, as compared to 9.8 percent for non-STEM positions; however, the number of Americans graduating with degrees in STEM fields is not keeping pace with projections.
"We are investing in the education of our future leaders today so they will be prepared for tomorrow," said Suzanne McCarron, president, ExxonMobil Foundation. "ExxonMobil is committed to encouraging the next generation of scientists and engineers by engaging students in math and science, and opening their eyes to the possibility of a career in these fields."
In September 2011, The Dream Tour made its first international stop – a three-country African tour – to expand the program's impact and address the need for strong STEM initiatives worldwide.
As part of The Harris Foundation's (THF) continued efforts to turn the tide in STEM education, THF and ExxonMobil Foundation recently hosted a National Educational Forum in Washington, D.C., where they urged policymakers and education leaders to enact positive change in the nation's schools and communities.
Since its inception in 2008, The Dream Tour has touched the lives of more than 60,000 students.
About The Harris Foundation
Founded in 1998, The Harris Foundation is a 501 (c) (3), non-profit organization based in Houston, Texas, whose overall mission is to invest in community-based initiatives to support education, health and wealth. The foundation supports programs that empower individuals, in particular minorities and economically and/or socially disadvantaged, to recognize their potential and pursue their dreams.
The Education Mission of The Harris Foundation is to enable youth to develop and achieve their full potential through the support of social, recreational, and educational programs. The Harris Foundation believes that students can be prepared now for the careers of the future through a structured education program and the use of positive role models. More than 15,000 students annually participate and benefit from THF programs. www.theharrisfoundation.org
About ExxonMobil Foundation
ExxonMobil Foundation is the primary philanthropic arm of the Exxon Mobil Corporation in the United States. In the United States, ExxonMobil supports initiatives to improve math and science education at the K-12 and higher education levels. In 2011, together with its employees and retirees, Exxon Mobil Corporation (NYSE:XOM), its divisions and affiliates, and ExxonMobil Foundation provided $278 million in contributions worldwide, of which $120 million was dedicated to education. Additional information on ExxonMobil's community partnerships and contributions programs is available at www.exxonmobil.com/community.
Photos/Multimedia Gallery Available: http://www.businesswire.com/cgi-bin/mmg.cgi?eid=50273955&lang=en