Profit On Hold wins Silver MARCE Award at On-Hold Messaging Association International Conference
Posted on May 17, 2012 at 16:35 PM EDT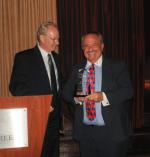 MANDEVILLE, La., May 17, 2012 /PRNewswire/ -- On Friday, May, 11, Profit On Hold was announced as the recipient of the 2012 Silver MARCE Award, at the Annual On-Hold Messaging International Conference in Phoenix, AZ. The MARCE Award acknowledges MARketing & Creative Excellence in the message on hold industry.
(Photo:  http://photos.prnewswire.com/prnh/20120517/DA09664)
The On Hold Messaging Association, OHMA, held their twelfth annual conference in Phoenix, AZ which concluded with the presentation of the industry's MARCE Awards (Marketing and Creative Excellence). Profit-On-Hold, an industry leader delivering custom, professional on hold marketing services was presented with the 2012 Silver MARCE Message On Hold Award. MARCE Awards are given annually by the International On Hold Messaging Association (OHMA.org) to recognize "Best of Class" in music and message on hold productions.
"We are extremely pleased to be selected for this prestigious award," said Otto Mehrgut, President of Profit On Hold. Each entry is reviewed and rated by a panel of qualified judges from marketing agencies which have no affiliation with OHMA or its membership. The judges are selected by a third-party with years of experience in appointing judges for The American Advertising ADDY Award competitions.
The winning on hold production was originally developed for Profit On Hold's client, Mike Bruno's Bayou Country Harley Davidson in Slidell, Louisiana. TJ Maggio of Hammond, Louisiana was the showcased Voice Talent for the production. The full Winning Production can be heard by visiting the OHMA website, at http://www.ohma.org/marces.
Founded in 1991, Profit-On-Hold has grown to become America's leading on-hold programming provider. With over 3,000 clients spanning 47 states and 10 foreign nations, Profit-On-Hold has established a reputation as the leader in on-hold messaging. Profit-On-Hold is Minority Owned Business Enterprise Certified by Louisiana Minority Business Council (LAMBC) and the Houston Minority Business Council (HMBC). More information can be found online at www.profitonhold.com.
For additional information contact: Leah McKee, Production Manager, Profit-On-Hold at (985) 674 - 5757 ext 225 or email leah@profitonhold.com.
SOURCE Profit On Hold