Panasonic Participates in Rio+20 with Solutions for Sustainable Living
Posted on June 14, 2012 at 08:45 AM EDT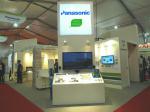 Panasonic Corporation is showcasing its energy solutions for achieving comfortable and sustainable lifestyles at the Japan Pavilion, which opened on June 13 in the Athletes Park, situated adjacent to Rio Centro, in Rio de Janeiro, Brazil, the main venue of the United Nations Conference on Sustainable Development, or Rio+20. Panasonic's exhibition is part of Japan's joint public- and private-sector initiative that aims to demonstrate to the world the Asian country's potentials and contribution towards sustainable development, which is one of the main themes of the Rio+20 conference to be held from June 20 to 22. The Japan Pavilion will open through June 24.
Panasonic booth at the Japan Pavilion in the Athletes Park, situated adjacent to Rio Centro, the main venue of the Rio+20. (Photo: Business Wire)
In line with the company's commitment to becoming the No. 1 Green Innovation Company in the Electronics Industry by 2018, the 100th anniversary of its founding, the Panasonic booth features the company's solutions for creating, storing and saving energy, including solar panels, storage batteries, energy management systems, energy-saving products, as well as systems that link those devices and equipment to optimize energy use at homes. The Fujisawa Sustainable Smart Town project, promoted by Panasonic and its partners, is also introduced as a concrete example that employs such solutions. The town located on the outskirts of Tokyo is scheduled to open by March 2014, with homes to be occupied by 2018. The town as a whole intends to reduce CO2 emissions by 70%, compared to the 1990 levels.
Panasonic's eco awareness activities are also introduced at the booth, including the company's Eco Relay program involving its employees around the world and educational activities being conducted in partnership with the UNESCO World Heritage Center.
The Japan Pavilion is open from 11:00 to 19:00 on weekdays and from 10:00 to 19:00 on weekends from June 13 to 24. For the three days from June 20 to 22, admission is limited to main conference participants.
About Panasonic
Panasonic Corporation is a worldwide leader in the development and manufacture of electronic products in three business fields, consumer, components & devices, and solutions. Based in Osaka, Japan, the company recorded consolidated net sales of 7.85 trillion yen for the year ended March 31, 2012. Panasonic's stock is listed on the Tokyo, Osaka, Nagoya and New York (NYSE:PC) Stock Exchanges. The company has the vision of becoming the No. 1 Green Innovation Company in the Electronics Industry by the 100th year of its founding in 2018. For more information on Panasonic, its brand and commitment to sustainability, visit the company's website at http://panasonic.net/.
Photos/Multimedia Gallery Available: http://www.businesswire.com/cgi-bin/mmg.cgi?eid=50309198&lang=en
Contacts:

Media Contacts:
Global Public Relations Office
Panasonic Corporation
Tel: +81-3-6403-3040 Fax: +81-3-3436-6766
Panasonic News Bureau
Tel: +81-3-3542-6205 Fax: +81-3-3542-9018