CORRECTING and REPLACING Eight New Models—GE's Industry-Leading Double Ovens Score Big on Capacity, Design and Performance
Posted on June 19, 2012 at 15:38 PM EDT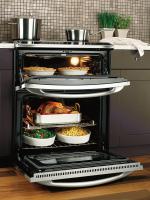 Please replace the release with the following corrected version due to multiple revisions.
With a GE Profile(TM) double-oven gas range, you can prepare two different dishes at two different temperatures at the exact same time. (Photo: General Electric)
The corrected release reads:
EIGHT NEW MODELS—GE'S INDUSTRY-LEADING DOUBLE OVENS SCORE BIG ON CAPACITY, DESIGN AND PERFORMANCE
Industry's only electric slide-in double oven offers elegant fit and performance in common 30-inch space
Industry's largest 6.7-cubic-foot oven capacity available in three freestanding gas models
Five electric models, including industry-exclusive slide-in, deliver performance and style
Double ovens are hot—so hot they are now the fastest-growing high-end cooking upgrade in the home. New double-oven product sales in the U.S. increased by one-third in 2011. GE, which leads the market, now offers eight high-performance double-oven models, including the industry's largest capacity and the only electric slide-in double oven.
"More Americans cook on GE products today than any other brand," says Melanie Cook, general manager for GE cooking products. "We're proud of our heritage and will continue to launch new cooking innovations for years to come."
Double-oven consumers are drawn to the versatility and convenience that comes with cooking lots of food simultaneously. Double-oven chefs can prepare an elegant five-course meal all at once, feed a large party, cook a week's worth of meals in one day, or easily satisfy multiple tastes and diet requirements in one sitting. But what most consumers don't realize at first look is that double ovens also effectively reduce energy use and save money by cooking with the oven best suited to the meal. The smaller top oven heats faster and uses less energy than the bottom oven, as well as most standard single ovens. This makes it more efficient and convenient for small, frequent meals. The bottom oven offers capacity for larger meals, and in most GE models, advanced convection cooking for even baking and roasting. For many consumers, cooking versatility combined with an opportunity to reduce energy cost is a twofold benefit that's difficult to pass up.
"GE double-oven owners who use the smaller top oven 50 percent of the time can reduce their energy use up to 25 percent compared to users of GE's 5.3-cubic-foot single oven," says Julie Muennich, GE senior merchandising manager. "That's a significant reduction by just tailoring your oven size to your meal. In our research, we see consumers using their top oven about 70 percent of the time. They reduce their energy costs for most meals and enjoy the convenience of two ovens or large-capacity convection cooking when they need it."
Performance, versatility, fit and finish drive double oven value
When shopping for double-oven ranges, consumers should pay attention to the overall quality, performance and versatility of both ovens and the cooktop. The cooktop is the most frequently used component on any range, accounting for 80 percent of all cooking. Consumers should also make sure they have true double-oven capability that allows them to independently control both cavities so they can cook multiple foods at different settings. The ability to grill, broil and bake all at the same time without having to worry about flavors mixing in the same oven or some food getting cold while the rest of the meal finishes is a valuable benefit most aspiring home chefs expect from their double ovens.
In addition to efficiency, most consumers who purchase a double oven are looking for greater menu flexibility and the tools to take their cooking to a new level of creativity. Convection cooking in at least one of the ovens, warming and proofing zones, high-performance grilling, boiling and simmering capabilities are each important to these consumers.
"Many of today's consumers are savvy cooks," said Muennich. "They like to experiment with new techniques or recreate recipes from their favorite chefs. They expect a high level of performance and quality and tools that will help them be a better cook. That's the value we're striving to provide."
Gas ovens — largest capacity, high performance
GE's three new double-oven gas ranges boast an industry-leading 6.7 cubic feet of combined capacity and fit the existing 30-inch space commonly found it today's kitchens. GE's new gas models also have the largest top oven at 2.4 cubic feet and bottom oven at 4.3 cubic feet, which means cooks can easily prepare a main course, the side items and dessert all at the same time. GE's increased capacity is greater than the industry average 5.9 cubic feet for freestanding consumer gas double ovens.
Electric double ovens to fit any cook's aspirations
GE's five new electric models include the industry's only slide-in double oven, for a sleek, custom-like installation in the standard 30-inch kitchen cutout. The slide-in electric double oven also includes GE's NextStep illuminated glass touch controls, which lead users through the setting process to help create delicious results every time. NextStep illuminated controls are on the front of the slide-in oven's cooking surface, making it Americans with Disabilities Act (ADA)-compliant and easy for all consumers to adjust settings without reaching over hot pots and pans.
GE electric models start at an estimated retail price of $1,449. GE gas models start at an estimated retail price of $1,799.* All models are available now.
*Resellers determine their own resale price.
Follow us on Facebook and Twitter or check out our website for more information
Friend GE Appliances on Facebook to view how-to videos; learn about new GE appliances, and join in the discussion with other GE appliance owners. Join today and follow @GE_Appliances on Twitter or just locate detailed information about our products at www.geappliances.com.
About GE Appliances
GE Appliances is at the forefront of building innovative, energy-efficient appliances that improve people's lives. GE Appliances' products include refrigerators, freezers, cooking products, dishwashers, washers, dryers, air conditioners, water filtration systems and water heaters. General Electric (NYSE: GE) works on things that matter to build a world that works better. For more information on GE Appliances, visit www.ge.com/appliances.
For high-res, downloadable photography, visit www.geapressroom.com.
Photos/Multimedia Gallery Available: http://www.businesswire.com/cgi-bin/mmg.cgi?eid=50315875&lang=en
Contacts:
GE Appliances
Julie Wood, Manager, Appliances PR, 502-452-5914
Julie_wood@ge.com