Photo Release -- Electronic House(TM) Awards Avista With Bronze Award for Custom Home Theater Redesign
Posted on June 20, 2012 at 14:51 PM EDT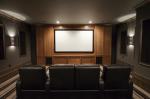 WEST COLUMBIA, S.C., June 20, 2012 (GLOBE NEWSWIRE) -- The publishers of Electronic House Magazine recently awarded Avista, a local firm that specializes in custom design and installation of integrated electronic systems, with a bronze award as part of the 2012 Electronic House Home of the Year Awards. Avista's Old Cherokee Home Theater project placed third in the Home Theater Design, $75,000-$150,000 category.
A photo accompanying this release is available at http://www.globenewswire.com/newsroom/prs/?pkgid=13378
"We are so pleased to be recognized for our work by one of the most respected publishers in our field," said Avista owner Matt Bridges. "It's an honor to be the only SC-based firm selected among entries received in 11 different categories. And just as important, we're glad we developed an end product that exceeded our clients' expectations."
Featured in the May-June 2012 issue of Electronic House, the Avista project was a redesign of a do-it-yourself home theater that had been installed by the client's previous homeowner. According to Bridges, the room required quite a bit of construction and design work to create a more attractive and functional space.
"The original screen wall had two windows that had been covered with construction paper. There was a faux wall on top of the sheetrock, and the speakers were sitting on top of homemade built-in cabinets. To make matters worse, the projector was hanging down from a huge telescopic pole nearly five feet from the ceiling," Bridges explained.
With the help of carpenter Chris Truett and interior designer Ashley Petty, Avista created a spectacular new space with custom cabinets, dramatic carpet, custom acoustic panels and window coverings to create a professional look. Bridges reworked the electronic equipment to incorporate a JVC projector, THX Ultra II Plus Klipsch speakers and subwoofers along with a URC MX-6000 remote control and MSC-400 processor to control the new system. Bridges said the results were a relaxed family space where the clients could enjoy an evening playing video games or watching their favorite movie and experience a much improved video and sound experience.
Avista offers comprehensive start-to-finish design services for integration of audio, video and security systems for residential and commercial customers. The Avista team works with an array of architects, builders, and interior designers to ensure seamless integration of the latest technologies for your home or business. For more information, visit www.goavista.com.
The Avista logo is available at http://www.globenewswire.com/newsroom/prs/?pkgid=13377
CONTACT: Karen Owens, karen@kocommunications.com  803.413-6789