Sky Ferreira Signed as the Face of Vigoss USA Jeans
Posted on June 20, 2012 at 15:09 PM EDT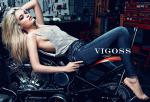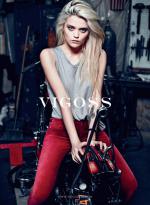 The VIGOSS USA Fall 2012 ad campaign was shot by world-renowned photographer Mario Sorrenti featuring Sky Ferreira under the creative direction of Alex Wiederin.
Sky Ferreira wears Vigoss USA Jagger Red Velvet Super Skinny Jeans. Photography by Mario Sorrenti.
CEO and Founder of Vigoss USA David Kubresi stated, "We tapped creative director, Alex Wiederin, to set the tone for the brand from the outset. Famed photographer, Mario Sorrenti, with his innate ability to document a woman's unique beauty and raw sexuality, captured Sky Ferreira's rock-n-roll edge and the VIGOSS aesthetic: one-of-a-kind and provocative."
"For Vigoss I wanted to create a campaign that got noticed," added Wiederin, creative director of Buero NY. "I knew that working with Mario Sorrenti would result in amazing images and that Sky Ferreira would add the edge I wanted to achieve."
Electro pop singer, songwriter, model and actress, Sky Ferreira, premiered the music video "Red Lips" last week. "Red Lips" is the first music video from her upcoming debut album, I'm Not Alright, which is set to be released this year. 19-year-old Ferreira was discovered through her Myspace page at 14, and has gained a cult online following through her singles "One" and "Obsession."
The ads will break in August publications including Teen Vogue, Nylon and Hamptons Magazine as well as NY billboards and taxi cabs.
Founded in 2002, Vigoss USA is famous for their on-trend skinny jeans available in a wide range of innovative textures, colors and prints. With details like leather-backed buttons, interior linings, logo'd grommets and hand-blasted denim, Vigoss USA offers premium jeans at accessible prices.
Creative Director: Alex Wiederin / Buero NY
Photographer: Mario Sorrenti
Stylist: Melanie Ward
Model: Sky Ferreira
Hair Stylist: Bob Racine
Make Up: Frank B
Available at Nordstrom, Von Maur and VigossUSA.com, the jeans are priced under $100 retail.
Photos/Multimedia Gallery Available: http://www.businesswire.com/cgi-bin/mmg.cgi?eid=50318213&lang=en