Whit Johnson Joins NBC4 Southern California as Co-Anchor and General Assignment Reporter
Posted on August 03, 2012 at 19:00 PM EDT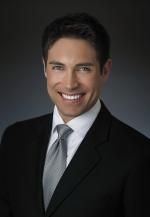 NBC4 Southern California today announced that Whit Johnson will join the station this fall. He will co-anchor the new hour-long "NBC4 News at Noon," alongside Lucy Noland, and will also report weekly on the 5PM and 6PM newscasts. Johnson begins his new post on September 10, 2012.
Whit Johnson (Photo: Business Wire)
Johnson comes to NBC4 Southern California from Washington, D.C., after a successful career as a correspondent and fill-in anchor for CBS News. Since 2009, he has covered the White House, Congress and some of the biggest stories in our nation's capital. His reporting on President Obama's healthcare plan debate, foreign policy issues, and high-profile interviews with Secretary of State Hillary Clinton, have earned him many accolades in the field of journalism. Johnson also is known for his reporting on the death of Osama bin Laden and in-depth coverage of the devastating BP Gulf Oil Spill in 2010.
"Whit is a dynamic journalist with outstanding storytelling abilities," said Todd Mokhtari, NBC4's vice president of news. "As we expand our noon newscast, Whit's contribution to our team will further position us to more effectively cover our expansive market and provide in-depth coverage that matters to our community."
"NBC4 News at Noon" launched last September as a fast-moving blend of the latest breaking news stories and issues that are important to Southern California residents. The newscast also includes viewer participation through social media conversations. The show's success has earned its place in daytime news and is being expanded from 30 minutes to 60 minutes, adding 150 minutes to the station's weekly delivery of news.
"I'm thrilled to join a world-class station that is known for delivering the news with that perfect blend of credibility, class and style," said Johnson. "To be part of a committed news team that is so well-respected is a tremendous opportunity."
Johnson started his career in 2005 as a weekend anchor and reporter for NBC affiliates in the Tri-Cities and Yakima, Washington, KNDO-TV/KNDU-TV. Prior to joining CBS News, Johnson anchored and reported for another NBC affiliate, KSL-TV in Salt Lake City, for the station's evening newscast. There, he led breaking news reports and covered national stories such as the Crandall Canyon Mine collapse and the Trolly Square Mall shooting in 2007.
A California native, Johnson's love for journalism started when he served as a sports announcer for his high school radio station. He also credits his stepfather and legendary radio host, Dr. Dean Edell, for introducing him to the world of broadcasting.
Johnson graduated from San Francisco State University with a B.A. degree in Television and Radio Broadcasting. An avid soccer player and world traveler, he's married to anchor/reporter Andrea Sujii, and together, they have a three month old daughter, Leah.
About NBC4 Southern California
NBC4 Southern California (www.nbclosangeles.com) is the West Coast flagship of the 10 NBC owned television stations. It produces more than 30 hours each week of local news and information across its multiple platforms, including the main broadcast channel 4, www.nbclosangeles.com and California Nonstop, the 24/7 news and information channel that airs on NBC4 LA's digital channel 4.2. Serving the Los Angeles community since 1949, NBC4's news operation has received nearly every industry award bestowed on local news, including numerous Los Angeles Emmy and Golden Mike Awards, as well as two national Edward R. Murrow Awards and a Peabody Award.
Photos/Multimedia Gallery Available: http://www.businesswire.com/cgi-bin/mmg.cgi?eid=50366871&lang=en