February 06, 2013 at 07:50 AM EST
Early Movers: TWX, CVS, CMI & More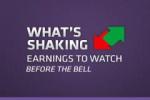 These are the stocks posting the largest moves before the bell.
Related Stocks:
3M COMPANY
AFLAC, Inc.
Apple, Inc.
Biogen Idec, Inc.
CHIPOTLE MEXICAN GRILL, Inc.
CUMMINS, Inc.
CVS CAREMARK CORPORATION
Coventry Health Care, Inc.
EXPEDIA
Elan Corp. PLC ADS
HARLEY-DAVIDSON, Inc.
Hewlett-Packard Company
Panera Bread Co
Shutterfly, Inc.
THE WALT DISNEY COMPANY
TIME WARNER, Inc.
Take-Two Interactive Softwar
Virgin Media, Inc.
WYNDHAM WORLDWIDE CORPORATION
ZYNGA-A