Nitches, Inc. Announces Third Quarter Fiscal 2008 Results
Posted on July 17, 2008 at 09:00 AM EDT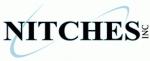 Reports Increased Sales, Reduced Losses, and a Paula Deen(R) Sublicense for Wal-Mart
SAN DIEGO, CA -- (MARKET WIRE) -- 07/17/08 -- Nitches, Inc. (NASDAQ: NICH) announced today its results for the three and nine months ended May 31, 2008. Highlights include:

--  An increase in net sales of $6.8 million, or 35.1%, for the three
    month comparative periods and $6.4 million, or 9.3%, for the nine month
    comparative periods.

--  Operating income of $321,000 for the recent 3 months versus a loss of
    $494,000 in the prior year period.

--  A reduced net loss of $.02 per share for the recent three months
    versus a net loss of $.08 per share for the prior year period.

--  Signing of a multi-year sublicense agreement for a line of Paula
    Deen® scented candles to be distributed primarily to Wal-Mart under the
    Company's license for the brand.
    
Operating Results
Nitches reported that consolidated net sales for the third quarter of fiscal 2008 increased 35.1% to $26.3 million versus $19.5 million for the third quarter of 2007. The sales increase was attributable primarily to the inclusion of results from Backwoods®, a specialty retail chain selling outdoor lifestyle products, which the Company acquired in February 2008. Incremental sales of home décor products, notably new Paula Deen® branded dinnerware, as well as women's sleepwear and men's sportswear also contributed to the increase. Consolidated net sales for the nine months ended May 31, 2008 increased 9.3% to $75.6 million versus $69.2 million for the nine months ended May 31, 2007.
The Company reported a consolidated net loss of $129,000 for the third quarter of fiscal 2008 versus a net loss of $432,000 in the third quarter last year. The third quarter loss per basic and diluted share was $.02 versus a loss of $.08 per basic and diluted share for the third quarter of fiscal 2007. Consolidated net loss of $1.5 million for the nine months ended May 31, 2008 compares with net income of $249,000 for the nine months ended May 31, 2007. For the current year period, the loss was $.26 per basic and diluted share versus earnings of $.05 per basic share and diluted share for the first nine months of fiscal 2007.
Earnings continued to be negatively impacted during the current three and nine month periods by lower realized gross margins due to pricing pressures and higher sales allowances granted to significant customers amid a weakening retail environment. Furthermore, noncash amortization and stock compensation expenses, an increase in both cash and noncash interest expenses related to the Company's convertible debentures issued in June 2007, as well as increased borrowings under the Company's factoring agreement, all contributed to the net loss.
At May 31, 2008, the Company had unfilled customer orders of $31.1 million compared to $45.2 million at the same time last year, with such orders generally scheduled for delivery by November 2008 and November 2007, respectively. The decrease in backlog is primarily due to reductions in orders for the Company's women's sleepwear and men's and women's sportswear, offset partially by an increase in orders for new Paula Deen® dinnerware and related items sold under license. The reduction in orders is attributable to the general slowdown in the U.S. economy, as well as the decision by management to not accept sales where the risk of retailer markdowns (deductions claimed by retailers against invoices due) is deemed to be too high.
"We are pleased with our top line revenue growth of 35.1% for the quarter and 9.3% for the year," commented Steve Wyandt, Chairman and CEO of Nitches. "We also continue to have success controlling the cash-based expenses of our operations. However, the persistent poor gross margin performance of our wholesale businesses reflects the pressures we are facing from higher costs of supply with no commensurate increase in wholesale prices, as well as our exposure to credit losses and markdown claims from retailers."
As for the reduction in wholesale order backlog, Mr. Wyandt remarked, "Mergers, store closings and bankruptcies are reducing our wholesale customer base. Additionally, the erosion of wholesale gross margins warrants a more cautious approach to our traditional markets. As we shift our revenue mix from lower margin private label products to higher margin branded lines of business such as our Paula Deen® products and direct ownership of Backwoods® specialty retail stores, we are being more selective about who we sell to in our wholesale product lines."
Paula Deen® License
Nitches also announced the signing of a multi-year sublicense agreement with MVP Group International, Inc. to produce and distribute a line of Paula Deen® candles primarily for sale to Wal-Mart. The candles will be food-scented based on popular recipes of celebrity chef and Food Network television personality Paula Deen. MVP has already received orders to ship Paula Deen® branded candles to approximately 1,000 Wal-Mart stores for the Fall 2008 season. MVP is a major candle supplier to U.S. discount retailers, drug stores, and mass merchants. The sublicense was issued under the Company's broad license to produce, distribute and sublicense Paula Deen® branded products.
About Nitches
Nitches, Inc. has been designing and marketing quality products for niche markets since 1971. The Company's owned and licensed apparel brands include Adobe Rose®, Anne Lewin®, Claire Murray®, Crabtree & Evelyn®, Derek Rose®, Dockers®, Eminence®, Gossard®, Nat Nast®, Princesse tam tam®, Saguaro®, Shock Absorber®, The Skins Game®, So-Cal Speed Shop®, Southwest Canyon®, and ZOIC®. The Company also distributes home décor products under the Bill Blass® brand and tabletop items such as dinnerware under the Paula Deen® brand. The Company's products are sold to better department stores, specialty boutiques, moderate department stores, and national and regional discount department stores and chains. The Company develops and manufactures private label products for many leading retailers and multi-channel marketers. As of February 1, 2008, the Company also operates eight Backwoods® outdoor lifestyle specialty retail stores in Kansas, Oklahoma, Nebraska and Texas. Visit our web site at www.nitches.com to learn more about our brands and our company.
Nitches is headquartered in San Diego, California with offices in New York City, Los Angeles, Dallas, Austin and Hong Kong. The Company's shares are traded on the NASDAQ Capital Market under the symbol NICH.
Backlog amounts include both confirmed orders and unconfirmed orders that the Company believes, based on industry practice and past experience, will be confirmed. While cancellations, rejections and returns have generally not been material in the past, there can be no assurance that such action by customers will not reduce the amount of sales realized from the backlog of orders at a given point in time. The amount of unfilled orders at any given time is affected by a number of factors, including the timing of the receipt and processing of customer orders and the scheduling of the manufacture and shipping of the product, which may be dependent on customer requirements.
Except for historical information contained herein, the statements in this release are forward-looking and made pursuant to the safe harbor provisions of the Private Securities Litigation Reform Act of 1995. Forward-looking statements involve known and unknown risks and uncertainties that may cause the Company's actual results in future periods to differ materially from forecasted results. Those risks include, among other things, a softening of retailer or consumer acceptance of the Company's products, pricing pressures and other competitive factors, or the unanticipated loss of a major customer. The Company's results may also differ materially from period to period due to the seasonal nature of the Company's product lines. These and other risks are more fully described in the Company's filings with the Securities and Exchange Commission.

                        Three Months Ended          Nine Months Ended
                    --------------------------  --------------------------
                       May 31,       May 31,       May 31,       May 31,
                        2008          2007          2008          2007
                    ------------  ------------  ------------  -------------

Net sales           $ 26,316,000  $ 19,475,000  $ 75,572,000  $  69,170,000
Operating income
 (loss)             $    321,000  $   (494,000) $   (216,000) $   1,189,000
Net income (loss)   $   (129,000) $   (432,000) $ (1,529,000) $     249,000

Basic earnings
 (loss) per share   $      (0.02) $      (0.08) $      (0.26) $        0.05
Diluted earnings
 (loss) per share   $      (0.02) $      (0.08) $      (0.26) $        0.05

Weighted average
 number of common
 shares:
Basic                  6,019,644     5,421,259     5,818,622      5,193,555
Diluted                6,019,644     5,421,259     5,818,622      5,297,123