OmniaLuo Spring/Summer 2009 Show; Breakthrough in Chinese Fashion Design Makes a Splash in NYC
Posted on September 17, 2008 at 07:07 AM EDT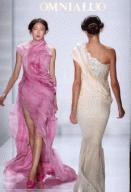 SHENZHEN, China, Sept. 17 /Xinhua-PRNewswire-FirstCall/ -- OmniaLuo, Inc. (OTC Bulletin Board: OLOU; "OmniaLuo" or the "Company"), a China-based company engaged in designing, developing, marketing and distributing fine women's apparel under the brand name OMNIALUO, completed its first fashion show in the United States on Friday September 12 by presenting its Spring/Summer 2009 collection at the Mercedes-Benz New York Fashion Week. The closing look of OMNIALUO Spring/Summer 2009 show, a hand-dyed rosy pink gown made of several layers of light silk, was another romantic and feminine hit. Chinese supermodel Xiaoyi Dai walked down the runway in the extravagant evening gown.
(Photo: http://www.newscom.com/cgi-bin/prnh/20080917/CNW038 )
"OMNIALUO symbolizes the entrance of Mainland Chinese fashion design into the international arena," wrote China Fashion Week ( http://www.cfw.com.cn ), a reputable Chinese apparel publication, on September 12, 2008. This echoes with an article titled "To Win Over China, Come to New York" written by Mary Bridges in Portfolio, a Conde Nast publication, on September 12, 2008. The article highlights the increased international exposure of OmniaLuo through the New York Fashion Week. According to the article, the runway show in Bryant Park will significantly help increase brand awareness in the Company's main market, China.
About OmniaLuo, Inc.
OmniaLuo, Inc. ( http://www.omnialuo.com.cn ) based in China's fashion capital of Shenzhen, is in the business of designing, developing, marketing and distributing fine women's apparel under the brand name OMNIALUO. OMNIALUO's apparel embodies elegance, femininity and sophistication for China's rapidly growing class of urban and affluent female professionals. With its rapid and strategic expansion plan, OMNIALUO plans to increase its retail presence to more than 250 retail stores and distributor relationships by year end 2008. Under the leadership of Zheng Luo, the Company's founder and award winning chief designer, OMNIALUO is positioned to become a solid luxury brand in China.
Safe Harbor Statement under the Private Securities Litigation Reform Act of 1995
This news release contains forward-looking statements, including statements that include the words "believes," "expects," "anticipates," or similar expressions. Such forward-looking statements involve known and unknown risks, uncertainties and other factors that may cause the actual results, performance, or achievements of the Company to differ materially from those expressed or implied by such forward-looking statements. Factors that may affect these forward-looking statements include, among others, our dependency on our chief executive officer, principal stockholder and chief designer, our sensitivity to economic conditions and consumer spending in China, competition in our industry, our ability to effectively manage our growth, our ability to raise capital in the future, changes in China's economic or political situation, and other factors set forth in our Annual Report on Form 10-KSB filed with the United States Securities and Exchange Commission or otherwise set forth from time to time in our other public filings. This news release speaks as of the date first set forth above and the Company assumes no responsibility to update the information included herein for events occurring after the date of this news release.

    For more information, please contact:

    C
SOURCE OmniaLuo, Inc.