January 14, 2013 at 09:30 AM EST
New Gardening Gloves Fit for the Royal Horticultural Society (RHS) Now Available in U.S.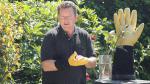 BURLINGTON, VT -- (Marketwire) -- 01/14/13 -- England is well-respected and known for its gardens and gardeners, so when Peter Cooney created Gold Leaf Gardening Gloves back in 2004, he knew he was creating gloves for a discerning hard-working customer and he's succeeded in creating England's most sought-after gloves. Now, Gold Leaf's full selection of gardening gloves is crossing the pond and these new garden gloves are now available from Gardener's Supply.
Widely regarded as the world's premier brand of gardening gloves due to their superior quality, feel, softness, comfort and general usability, Gold Leaf Gardening Gloves are also used by professional gardeners at the Royal Horticultural Society's Wisley, Rosemoor and Harlow-Carr gardens -- among the most admired and frequently visited in the U.K. "All of the Gold Leaf range are, in fact, endorsed by the Royal Horticultural Society, whose patron is the Queen," said Peter Cooney, Gold Leaf Gardening Gloves designer and owner. "These gloves are so valued, many see them as an essential garden tool, and our goal when creating these gloves was to create the very, very best, something which all of our customer feedback to date suggests we have managed to achieve."
Gold Leaf Gardening Gloves solve the problem of stiff, uncomfortable, ill-fitting gloves with exceptionally high quality leather and innovative styling. Unlike some clumsy, all-purpose gloves, which use tough, industrial leather, Gold Leaf's gardening gloves are designed with gardening tasks and conditions in mind. The pliable, durable leather used in each glove creates a tight fit that conforms to the gardener's hands. "The leather will stretch around the hand and form a second skin," Cooney explains. "That gives you the benefit of incredible feel and lots more sensitivity when gardening."
Gardener's Supply offers all four of Gold Leaf's attractive, comfortable styles, each of which is embossed with the Royal Horticultural Society's official seal. Prices range from $38.95 to $49.95.
Dry Touch™ Gloves Offer exceptional dexterity thanks to soft, extremely pliable, water-resistant leather. Good for general gardening tasks in damp or slightly wet conditions, including potting, weeding and light pruning, these gloves are fully lined for warmth and comfort.
Tough Touch™ Gloves Stay incredibly soft and comfortable whilst still protecting hands from thorns. Made of durable gold deer grain leather treated for water resistance, this style's extended cuff offers additional protection for the wrist and forearm.
Soft Touch™ Gloves Create unmatchable dexterity through a combination of extremely close fit and high-quality deer grain leather, plus back construction of Lycra, nylon and foam. A VELCRO® fastening completes the tight fit. These multi-purpose gloves are great for gardeners who want style with an excellent feel.
Winter Touch™ Gloves Lined with Thinsulate™ as well as waterproof, breathable Ski-Dri™ to keep hands warm and totally dry in wet, cold weather. Excellent for general gardening tasks throughout the winter, these reinforced-palm gloves are excellent for use with gardening tools such as rakes, spades and brushes.
To purchase Gold Leaf Gardening Gloves, gardeners may shop online at www.gardeners.com, or or call 1-800-955-3370 for a free catalog.
Founded in 1983, Gardener's Supply is an employee-owned company of avid gardeners providing garden-tested, earth-friendly products combined with practical information. Located in Burlington, Vermont, the company has won many awards for its patented products and innovative management style.
Image Available: http://www2.marketwire.com/mw/frame_mw?attachid=2200303
Image Available: http://www2.marketwire.com/mw/frame_mw?attachid=2200306

Add to Digg Bookmark with del.icio.us Add to Newsvine