February 05, 2013 at 07:00 AM EST
Hana Mining Intersects 4.03% Cu and 50.7g/t Ag Over 14 m Further Increasing the Size and Underground Potential of the Zone 5 Deposit
Closing Update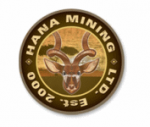 VANCOUVER, BRITISH COLUMBIA -- (Marketwire) -- 02/05/13 -- Hana Mining Ltd. ("Hana" or the "Company") (TSX VENTURE: HMG)(FRANKFURT: 4LH)(BOTSWANA: HANA) is pleased to announce further positive drill results from three deep exploration drill holes at Zone 5 of the Ghanzi sediment hosted Copper-Silver Project in Botswana (Figure 1).
Highlights of deep drilling exploration results:


--  Estimated true width intercepts:
    --  1.61% CuEq(1) (1.42% Cu and 13.3 g/t Ag) over 17.36 metres in hole
        HA-594c-D,
    --  4.77% CuEq(1) (4.03% Cu and 50.7 g/t Ag) over 14.26 metres within a
        wider mineralized interval of
        3.61% CuEq(1) (3.06% Cu and 38.1 g/t Ag) over 19.09 metres in hole
        HA-654-D,
    --  1.23% CuEq(1) (1.18% Cu and 4.0 g/t Ag) over 3.51 metres in hole HA-
        655-D.


(1) Copper equivalent calculated using US$3.00/lb Cu, US$30/oz Ag and is not adjusted for metallurgical recoveries. The formula used is as follows: CuEq = Cu% + (Ag g/t x 0.01458).
The 2012 deep exploration drill program at Zone 5 was focused on wide 'step out' drilling from known high-grade mineralization (Figure 2). The 'step outs' were located 500 metres away from previous collar intercepts and intersected mineralization approximately 400 metres down dip from the current Inferred Mineral Resource at Zone 5 (Figure 3). All three holes intersected similar mineralization to that intersected near surface at approximately 600-650 metres vertically from surface.
These drilling results confirm the continuity of high-grade copper mineralization at depth at Zone 5 over a defined strike length of 4,000 metres. The results from these holes were not included in the most recent resource estimate used to produce the Preliminary Economic Assessment ("PEA") released 14 May 2012. Zone 5 Inferred Mineral Resource holes were drilled to a maximum depth of 200 metres and produced an Inferred Mineral Resource of 520 MIbs Cu and 6.8 Moz Ag at a 0.40% Cu cutoff. During the 2012 drill programme, Hana completed 63 holes totaling 15,555 metres at Zone 5.
Hana Mining President and CEO, Marek Kreczmer comments; "Zone 5 deep mineralization continues to be open along strike and at depth. The extent of the underground footprint suggests that the size of the resource at Zone 5 could possibly double our earlier estimate. The 2012 high-grade copper results from Zone 5 also have the potential to change the mine plan of the Ghanzi Project."
During 2012, a total of 201 holes were drilled for an aggregate of 40,693 metres. Work focused on exploration and infill drilling at Zones 2, 4, 5 and 6. The 2012 drill program was successful in both discovering the extent of mineralization potential at the Ghanzi Project and increasing the confidence of known mineralization through infill drilling.
To view accompanying Figures 1 to 3, visit the following link: http://media3.marketwire.com/docs/HMGFig1to3.pdf
Corporate Update
Hana Mining President and CEO, Marek Kreczmer also comments; "management from Hana and Cupric has recently met with the relevant Botswana regulatory authorities and was assured the approval process is progressing. The parties continue to work towards satisfaction and receipt of the outstanding Arrangement conditions. The closing of the Arrangement remains subject to the satisfaction or waiver of such conditions and the final approval of the TSX Venture Exchange. The closing of the Arrangement is expected to occur in February 2013."
Qualified Person and Quality Assurance/Quality Control
The drilling program and results are reviewed and approved by Marek Kreczmer, Chief Executive Officer for Hana. He is the qualified person as defined in NI 43-101 and has reviewed the technical information in this press release.
Drill core is logged and photographed. Mineralized intervals are split in half by sawing and sampled at site. The remainder of the core is kept as a permanent record. Samples are placed into labeled bags, closed and packed into sealed bags that are shipped to Scientific Services Laboratory in Cape Town, South Africa. Hana has implemented an industry-standard QA/QC program that includes the blind insertion of certified standards, duplicates and blanks into the sample stream.
About Hana Mining's Ghanzi Copper-Silver Project in Botswana:
The Ghanzi Project is located in the center of the Kalahari Copper Belt in northwestern Botswana. The Ghanzi property covers 2,149 square kilometres, and contains sediment-hosted copper-silver deposits with a demonstrated cumulative tested strike length of 70 kilometres. This favorable geology extends over an estimated strike length of 600 kilometres.
On May 14, 2012 Hana Mining released results of its most recent NI 43-101 compliant Preliminary Economic Assessment ("PEA") for the Ghanzi Project. The PEA details a 10,000 tonne per day open-pit mining and milling operation at the Banana Zone and Zone 5 at an initial capital expenditure of US$285.5 million. This operation is expected to produce approximately 66.4 million pounds of copper and 878,000 ounces of silver annually over a minimum 13-year mine life. The PEA is preliminary in nature and includes inferred mineral resources that are considered too speculative geologically to have the economic characteristics applied to them that would enable them to be categorized as mineral reserves. There is no certainty that the PEA will be realized.
On October 24, 2012 Hana Mining announced a definitive plan of arrangement (the "Arrangement") with Cupric Canyon Capital LP for an all cash acquisition of all outstanding shares of Hana Mining Ltd.; pursuant to this agreement, shareholders of Hana will receive C$0.82 in cash for each common share. The offer values Hana's equity at approximately C$82 million. On December 27, 2012 at a Special Shareholders meeting, more than two thirds of Hana's shareholders approved the Arrangement offered by Cupric Canyon. On January 7, 2013 the Company received a final order of approval by the Supreme Court of British Columbia. The closing of the Arrangement remains subject to the satisfaction or waiver of certain conditions of the Arrangement and is expected to occur in February 2013. Upon closing of the transaction, Cupric intends to advance the Ghanzi project through the design, construction and operational phases of its development.


Table 1: Drill Results from Zone 5. Interval indicates down hole interval
 lengths.

----------------------------------------------------------------------------
                                                      Est.
                                                      True
                  Mineralized  From    To Interval   Width CuEq1    Cu    Ag
Hole #    Section Zone          (m)   (m)      (m)     (m)   (%)   (%) (g/t)
----------------------------------------------------------------------------
Zone 5 Deep Diamond Drilling
----------------------------------------------------------------------------
HA-594c-D N125050 Zone 5     648.26686.00    37.74   36.61  0.89  0.79   7.1
 includes                    652.40670.30    17.90   17.36  1.61  1.42  13.3
----------------------------------------------------------------------------
HA-654-D  N126250 Zone 5     698.70718.18    19.48   19.09  3.61  3.06  38.1
 includes                    699.23713.78    14.55   14.26  4.77  4.03  50.7
----------------------------------------------------------------------------
HA-655-D  N127150 Zone 5     548.28558.62    10.34   10.13  0.52  0.48   2.2
 includes                    549.06552.64     3.58    3.51  1.23  1.18   4.0
----------------------------------------------------------------------------
Copper equivalent calculated using US$3.00/lb Cu, US$30/oz Ag and is not
adjusted for metallurgical recoveries. The formula used is as follows: CuEq
= Cu% + (Ag g/t x 0.01458).


Forward-Looking Statements
Certain information contained in this news release, including any information relating to the proposed transaction (the "Transaction") and Hana's future financial or operating performance may be deemed "forward-looking". These statements relate to future events or future performance and reflect Hana's expectations regarding future growth, results of operations, business prospects and opportunities of Hana and the completion of the Arrangement. These forward-looking statements also reflect Hana's current internal projections, expectations or beliefs and are based on information currently available to Hana, respectively. In some cases forward-looking information can be identified by terminology such as "may", "will", "should", "expect", "intend", "plan", "anticipate", "believe", "estimate", "projects", "potential", "scheduled", "forecast", "budget" or the negative of those terms or other comparable terminology. Assumptions upon which such forward looking information is based include perceived merit of properties; exploration results and budgets; mineral reserves and resource estimates; work programs; capital expenditures; timelines; strategic plans; completion of transactions; market prices for precious and base metals; or other statements that are not statements of fact. Although Hana believes that the forward-looking information contained in this news release is based on reasonable assumptions, readers cannot be assured that actual results will be consistent with such statements. Accordingly, readers are cautioned against placing undue reliance on forward-looking information. Hana expressly disclaims any intention or obligation to update or revise any forward-looking information, whether as a result of new information, events or otherwise, except in accordance with applicable securities laws.
The TSX Venture Exchange has not reviewed and does not accept responsibility for the adequacy or accuracy of this release.