April 16, 2013 at 09:59 AM EDT
Jo-Ann Launches Exclusive Line of Ohio State University Licensed Fabric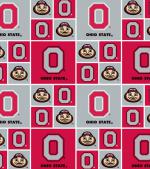 Jo-Ann Fabric and Craft Stores, the leading fabric and craft specialty retailer in America, is excited to announce the addition of an exclusive license to its industry-leading assortment of collegiate fabrics: The Ohio State University.
Ohio State University Block Cotton Print - one of seven OSU fabrics available exclusively at Jo-Ann stores and joann.com (Photo: Business Wire)
"We are thrilled to offer fans of The Ohio State University this exclusive-to-Jo-Ann line of fleece and cotton fabrics," said Susan Starcher, buyer of fleece, warm and licensed fabric for Jo-Ann. "Our customers love to show their school spirit, and no other retailer offers a more diverse selection of college and university fabrics than Jo-Ann."
The complete line of fabrics includes three fleece prints and four cotton prints featuring iconic Ohio State images such as Brutus and the Block O. The fabrics can be found in select Jo-Ann stores, on Joann.com and through the in-store special order program.
Including this exclusive Ohio State University license, Jo-Ann now carries 53 collegiate fabric licenses – more than any other retailer in the country. To browse the entire selection of licensed fabric available at Jo-Ann, visit Joann.com/fabric/licensed-fabric/.
About Jo-Ann Stores, Inc.
Jo-Ann Fabric and Craft Stores, the nation's leading fabric and craft retailer with locations in 49 states, was founded in 1943 as a single retail store. Today, approximately 800 Jo-Ann stores across the country provide consumers all the fabrics, craft supplies and inspiration they need, conveniently under one roof. For additional information, visit Joann.com. To make creative connections, visit Joann.com/community.
Photos/Multimedia Gallery Available: http://www.businesswire.com/multimedia/home/20130416006069/en/
Contacts:
Jo-Ann Fabric and Craft Stores
Margaret Skinner, Director, Corporate Communications, 330-463-6705
margaret.skinner@joann.com