April 25, 2013 at 08:30 AM EDT
Polycom® Video Collaboration Solutions Improve and Accelerate South Korea's National Emergency Management Agency (NEMA) Crisis and Emergency Response Nationwide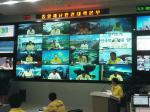 Polycom, Inc. (Nasdaq: PLCM), the global leader in open, standards-based unified communications and collaboration (UC&C), today announced that South Korea's National Emergency Management Agency (NEMA) is using Polycom® RealPresence® video collaboration solutions to improve communication and collaboration among emergency response teams in 17 cities and provinces nationwide. With the Polycom solutions, teams can meet and share content face-to-face in one video collaboration session with any number of remote teams and distant locations. This accelerates decision making during crises and improves the quality of the decisions because of the on-demand access to experts and specialists, no matter where they are located.
South Korea's National Emergency Management Agency (NEMA) held video conferences among 16 heads of the local governments (cities & provinces) from the Central Disaster and Safety Countermeasures Headquarter to share status reports for typhoon Bolaven, which struck South Korea last summer. (Photo: Business Wire)
NEMA deployed Polycom's video collaboration solutions, including the Polycom® HDX® 9000 room system to quickly connect the central disaster and safety countermeasures teams based at headquarters with government agencies and disaster control centers nationwide. Teams in 17 cities and provinces nationwide, including in Busan, Daegu, Incheon, Daejeon, Gwangju and Sejong City, are seamlessly collaborating with colleagues at headquarters in Seoul for faster and more immediate response to disaster situations such as typhoons, floods, and snowstorms. The deployment of video collaboration has also helped bring together related parties and key decision makers from government ministries and the National Police Agency in managing national emergencies and controlling countermeasures, while enabling the exchange of real-time information, such as videos from affected areas, recovery status, and on-site reporting.
Polycom RealPresence video collaboration solutions were selected because of their interoperability with the agency's existing IT infrastructure, as well as the easy-to-use, high-definition audio and video capabilities, and stability and security in conducting multi-party video conferences without interruption or delay in transmission. Polycom video solutions are developed with Lost Packet Recovery Technology that guarantees the quality of video, audio and content sharing even when packet loss and network congestion occurs due to unstable network environments. This is particularly important when rapid decisions are required to be made in emergency situations, which allows for the most effective collaboration between response teams in full high-definition quality between NEMA's many dispersed offices nationwide.
Polycom's video conferencing solution interoperates with the organization's existing video and voice systems located in the central disaster and safety countermeasures headquarters' situation room. In fact, when typhoon Bolaven hit South Korea last summer, and during the time of heavy snow falls in winter, Polycom video solutions were used among the heads of local governments, led by the Minister of Ministry of Public Administration and Security (MOPAS) and the head of National Emergency Management Agency, to meet face-to-face for briefings on the weather conditions and to make urgent decisions in-real time to minimize and avoid further damage.
The complete solution is powered by the Polycom® RealPresence® Platform – the most comprehensive and interoperable software infrastructure for universal HD video collaboration – which provides robust provisioning, management, scalability, reliability, and security. As part of the Platform, NEMA is using the Polycom® RealPresence® Collaboration Server, a multi-lateral video conferencing platform which has been deployed in the Central Government Complex, to directly connect with the agency's headquarters and branches countrywide.
"In a disaster situation, it is absolutely crucial to be able to respond quickly with precise and accurate sharing of information and initiate real-time collaboration with remote teams," said Dae-Jun Shin, Country Manager, Polycom Korea. "Polycom video collaboration solutions support major decision makers to respond immediately and effectively to a crisis through prompt communication and face-to-face collaboration in high-definition quality, no matter where they are located."
About Polycom
Polycom is the global leader in open, standards-based unified communications (UC) solutions for voice and video collaboration, trusted by more than 415,000 customers around the world. Polycom solutions are powered by the Polycom® RealPresence® Platform, comprehensive software infrastructure and rich APIs that interoperate with the broadest set of communication, business, mobile and cloud applications and devices to deliver secure face-to-face video collaboration in any environment. Polycom and its ecosystem of over 7,000 partners provide truly unified communications solutions that deliver the best user experience, highest multi-vendor interoperability, and lowest TCO. Visit www.polycom.com or connect with us on Twitter, Facebook, and LinkedIn to learn how we're pushing the greatness of human collaboration forward.
© 2013 Polycom, Inc. All rights reserved. POLYCOM®, the Polycom logo, and the names and marks associated with Polycom's products are trademarks and/or service marks of Polycom, Inc. and are registered and/or common law marks in the United States and various other countries. All other trademarks are property of their respective owners.
Photos/Multimedia Gallery Available: http://www.businesswire.com/multimedia/home/20130425005477/en/