April 28, 2013 at 06:15 AM EDT
Pall Corporation Opens Office in Saudi Arabia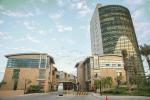 Pall Corporation (NYSE:PLL), a global leader in filtration, separation and purification, today inaugurated a new office in the Kingdom of Saudi Arabia (KSA). Located in Al Khobar, the office is Pall's second in the Middle East. Pall opened its regional headquarters in Dubai (UAE) in October of 2010. The company has operated in the region since 2003.
Pall's new Saudi Arabia office is within the Alturki Business Park. (Photo: Business Wire)
"The needs of our customers in the Middle East continue to evolve and demand for our advanced fluid management solutions continues to grow," said Larry Kingsley, Pall President and CEO. "The addition of our new Saudi Arabia office reinforces Pall's commitment to the region as well as to our customers in the area."
At the Al Khobar site, Pall will have a customer support team as well as an engineering facility dedicated to serving local customers and multinational companies that partner with Pall in the region. Pall provides filtration, separation and purification solutions that address both process management and environmental requirements. The company's products are used in an array of demanding applications, from oil and gas, petrochemicals and power generation to pharmaceuticals and water treatment.
"Pall's growing local presence strengthens our capabilities to deliver highly engineered process solutions, applications expertise and local technical support to a broader range of companies in the Middle East region," said Hussein Barazi, Managing Director, Pall Middle East & Africa.
The company also is dedicated to driving advances in markets of critical importance to communities and business in the Middle East. Pall's recent collaboration with the Saudi Arabia-based King Abdullah University of Science and Technology (KAUST) is an example of that commitment. Pall will participate in research relating to filtration, separations, and purification technologies in areas such as water treatment and alternative fuels.
The new Al Khobar facility, Saudi Pall International Ltd., is located at Dhahran 34455 – 4088, King Saud Road – Doha 7448, Unit No. 3 – Alturki Business Park. It can be contacted by phone at +966 3 868 7018.
Pall Middle East FZE, Pall's regional headquarters in Dubai, is located at View 19, Office No.1401, Jebel Ali Free Zone.
About Pall Corporation
Pall Corporation (NYSE:PLL) is a filtration, separation and purification leader providing solutions to meet the critical fluid management needs of customers across the broad spectrum of life sciences and industry. Pall works with customers to advance health, safety and environmentally responsible technologies. The company's engineered products enable process and product innovation and minimize emissions and waste. Pall Corporation is an S&P 500 company serving customers worldwide. Pall has been named a "top green company" by Newsweek magazine. To see how Pall is helping enable a greener, safer, more sustainable future, follow us on Twitter @PallCorporation or visit www.pall.com/green.
Photos/Multimedia Gallery Available: http://www.businesswire.com/multimedia/home/20130428005014/en/