September 05, 2013 at 13:29 PM EDT
3,000 Volunteers; 39 Community Projects; One Day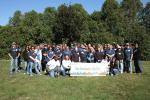 On September 18, Blue Cross Blue Shield of Massachusetts (BCBSMA) will hold its third annual company-wide Service Day, One Community. One Blue. More than 3,000 associates, known as BlueCrew, will volunteer all together on one day at 39 different community sites across the state to beautify recreational areas, prepare meals, assemble food and clothes items, and enhance educational facilities, among many other activities. Visit the Service Day website for more information.
Blue Cross Blue Shield of Massachusetts associate volunteers, known as BlueCrew, group together for the company's annual Service Day, One Community. One Blue. More than 3,000 associates will volunteer across Massachusetts at 39 different non-profit projects to help the community. (Photo: Business Wire)
"Through our Corporate Citizenship efforts, we are committed to improving the lives of children and families in need, investing in the economy, empowering our workforce through civic engagement and diversity and inclusion initiatives and improving the environment," said Andrew Dreyfus president and CEO of BCBSMA. "Inspired by the vision and goals of our community partners, Service Day gives our associates the opportunity to strengthen cities, towns, and neighborhoods across Massachusetts and continues our more than 75 year legacy of community commitment - which has been a hallmark of Blue Cross since our founding."
Last year more than 3,000 of our associates volunteered at 31 projects and contributed more than 16,000 volunteer hours in one day. View a video of last years' Service Day here.
BCBSMA's 2013 non-profit Service Day partners include:

Allston: West End House Boys and Girls Club
Dorchester: The Food Project Inc.
Boston: American Red Cross of Eastern Massachusetts
Duxbury: Crossroads for Kids
Boston: Franklin Park Coalition, Franklin Park
East Bridgewater: Old Colony YMCA
Boston: Grow Boston Greener
Hull: Hull Lifesaving Museum
Boston: Pine Street Inn
Jamaica Plain: Community Servings
Boston: Room to Grow
Lynn: Massachusetts Coalition for the Homeless
Boston: The Greater Boston Food Bank, Inc.
Mattapan: Massachusetts Audubon Society
Boston: Thrive in 5
Plymouth: Old Colony YMCA
Boston Harbor: Long Island, Camp Harbor View Foundation
Quincy: Germantown Neighborhood Center, South Shore YMCA
Boston Harbor: Peddocks Island, Boston Harbor Island Alliance
Roxbury: Boys & Girls Club of Boston, Inc.
Boston Harbor: Thompson Island Outward Bound Education Center
Roxbury: Dimock Community Health Center
Brighton: Cradles to Crayons
Sandwich: YMCA Cape Cod
Brighton: Crittenton Women's Union
Sharon: The Salvation Army
Brockton: Veteran Affairs Medical Center
South Boston: Save the Harbor / Save the Bay
Brookline: Emerald Necklace Conservancy
Springfield: Rebuilding Together Springfield Inc.
Canton: YMCA of Greater Boston
Stoughton: Old Colony YMCA
Dorchester: Big Sister Association of Greater Boston
Weymouth: South Shore Stars, Inc.
Dorchester: Playworks Education Energized
Worcester: Boys & Girls Club of Worcester
Dorchester: Rebuilding Together Boston, Inc.
Project highlights include:
BCBSMA will remain open in a limited capacity on September 18. Dedicated call center associates, essential to supporting BCBSMA members and providers, will work throughout the day and volunteer in shifts to ensure they can serve the community and join the Service Day activities.
Community and Economic Impact Beyond Service Day
A new BCBSMA 2012 Corporate Citizenship Report highlights other measurable and sustainable benefits BCBSMA's community and economic contribution strategies are having throughout the Commonwealth. View the report here.
Blue Cross Blue Shield of Massachusetts (www.bluecrossma.com) is a community-focused, tax-paying, not-for-profit health plan headquartered in Boston. We are committed to working with others in a spirit of shared responsibility to make quality health care affordable. Consistent with our corporate promise to always put our 2.8 million members first, we are rated among the nation's best health plans for member satisfaction and quality. To learn more about BCBSMA's Corporate Citizenship efforts, visit BlueCrew @ Blue Cross Blue Shield of Massachusetts on Facebook or our annual Corporate Citizenship Report.
Photos/Multimedia Gallery Available: http://www.businesswire.com/multimedia/home/20130905006424/en/