October 01, 2013 at 09:02 AM EDT
Meller Sapphire Waveplates Are Thin as 0.4 mm and < 25 mm Diameter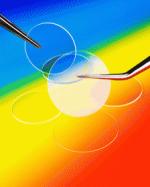 PROVIDENCE, RI -- (Marketwired) -- 10/01/13 -- Meller Optics, Inc. has introduced custom manufactured low order sapphire waveplates that provide superior wear- and chemical-resistance while changing the polarization state of lasers.
Meller Sapphire Waveplates feature Moh 9 hardness, which is second only to diamond, allowing fabrication in sizes from 10 to 30 mm in either "A" or "M" plane configurations and are A/R coated on both sides. Highly resistant to chemicals, scratching, shock, and temperature fluctuations, these robust low order waveplates can be custom made as thin as 0.4 mm and < 25 mm dia.
Ideal for changing the polarization state in high power IR and visible lasers from linear to circular and vice versa, Meller Sapphire Waveplates exhibit 10-5 scratch-dig surface quality, < 1.0 arc/sec. parallelism, and they provide LAMBDA/4 and LAMBDA/2 retardation with tolerances of > LAMBDA/300 @632 µm, > LAMBDA/400 @1.06 µm, and > LAMBDA/1000 @2.94 µm. Single crystal quartz waveplates are also offered.
Meller Sapphire Waveplates are priced from $350.00 each, depending upon size and quantity. Price quotations are available upon request.
About Meller Optics, Inc.
Founded in 1921, Meller Optics has been providing high quality optics to defense, medical, laser, and industrial markets for 90 years now. Specializing in the grinding and polishing of hard, durable materials such as sapphire and ruby, the company has also developed high-speed, low-cost finishing processes for a variety of optical materials such as laser glasses, fused silica, zinc selenide, germanium, silicon, fluorides, and ceramic materials. Configurations include windows, substrates, lenses, domes, and prisms.
Meller Optics is ISO 9001:2008 certified and in addition to providing standard, off-the-shelf products, they custom fabricate components that meet exacting specifications from delicate, difficult-to-work-with optical materials. They also supply quality Microlux Alumina polishing abrasives and Gugolz optical polishing pitch.
Image Available: http://www2.marketwire.com/mw/frame_mw?attachid=2418381

Add to Digg Bookmark with del.icio.us Add to Newsvine